Giants and NBC 4 New York announce expanded partnership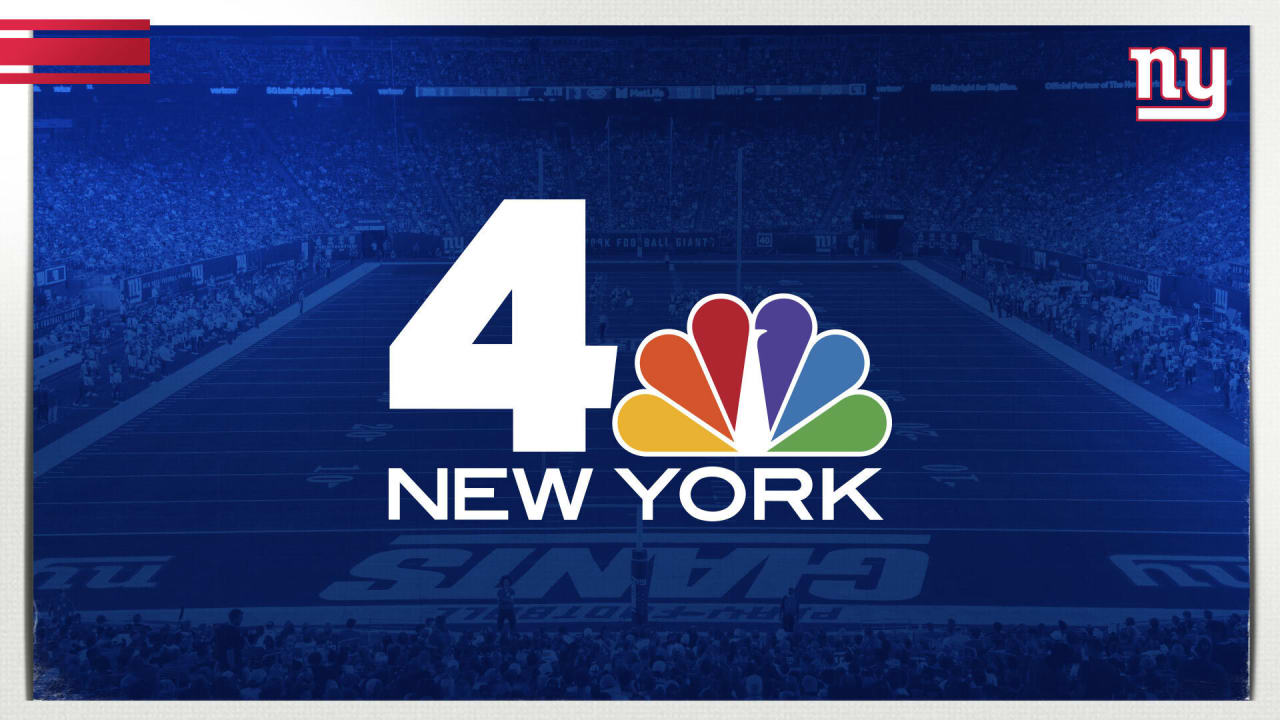 NEW YORK, NY – (August 9, 2022) – The Giants and NBC 4 New York today announced an expanded partnership naming NBC 4 New York as the official home of the New York Giants pre-season TV. Preseason coverage begins Thursday as the Giants travel to New England for a 7 p.m. game against the Patriots. Coverage will also include the August 21 preseason game, when the Giants host the Cincinnati Bengals at MetLife Stadium. Big Blue fans in the New York area can tune in exclusively to WNBC or stream the games on nbcnewyork.com and the NBC 4 New York app.
New this season is the debut of "All-Access: Giants Training Camp" airing Saturdays throughout the preseason on NBC 4 New York. Hosted by Bob Papa, featuring insiders Madelyn Burke, Brandon London and Paul Dottino, the thirty-minute show takes fans behind the scenes with the players, coaches and entire organization at training camp. Fans will have in-depth, up-close talks with head coach Brian Daboll and the Giants players as they prepare for the season. The Insiders team will provide expert analysis and breakdown of the Giants and their opponents throughout the preseason. The show will have exclusive highlights, features and mic segments. Giants fans will also get a special glimpse of the team off the field, as they step under the helmet to experience the players' interest in pop culture, music and entertainment.
"NBC 4 New York is the official pre-season television channel for the New York Giants. We are thrilled to continue our partnership with Big Blue and excited to once again offer quality live coverage both on air online – exclusively on our platforms," ​​said Eric Lerner, president and CEO of NBC 4 New York.
"It's an exciting time as we prepare for a new era of Giants football. Expanded preseason coverage with NBC 4 New York gives our fans the opportunity to see our roster grow ahead of the season. regular," Giants chief commercial officer Pete Guelli said.
The preseason show will feature The Voice of the Giants, Bob Papa, along with Giants Legends and broadcast analysts Carl Banks and Howard Cross. Alongside them, NBC 4 New York Senior Sports Anchor Bruce Beck will provide expert analysis from the sidelines.
Going forward, Telemundo 47/WNJU will also join sister station NBC 4 New York's collaboration with the Giants with a focus on digital platforms. This will expand Big Blue's engagement with the growing and important Tri-State Spanish-speaking audience.
Coverage of the New York Giants 2022 preseason schedule will include the following games:
Thursday, August 11 at 7:00 p.m. at the New England Patriots
Sunday, August 21 at 7:00 p.m. vs. Cincinnati Bengals
About NBC 4 New York / WNBC
NBC 4 New York/WNBC is the flagship station for the NBCUniversal Local division of NBCUniversal, serving the New York tri-state area for more than 75 years and featuring Alfred I. duPont-Columbia, Edward R. Murrow and Emmy® Award-winning journalists among the most accomplished in their field.
The station includes NBC 4 I-Team, New York's largest television investigative reporting unit, Better get Baquero which recovered more than $9 million for consumers in the tri-state and Storm Team 4, certified by RateWeather to provide the most accurate local weather forecasts in the Tri-State using state-of-the-art technology such as Storm Tracker 4, a high frequency S-band dual-polarization fixed Doppler weather radar. NBC 4 New York's digital platforms are also among the most read and watched in the New York market and include the NBC 4 app, dedicated Peacock, Roku, Apple TV and Amazon FireTV channels as well as a unique out-of-home viewing in local taxis. . For more information on NBC 4 New York, visit NBCNewYork.com.
About Telemundo 47 New York / WNJU
Telemundo 47 / WNJU is NBCUniversal Local's Telemundo station with over 50 years of service to the Spanish-speaking communities of New York, New Jersey and Connecticut. Featuring Emmy®-winning journalists and offering more than 27 hours of locally produced programming each week, Telemundo 47 is the only Spanish-language television channel in the tri-state with a team of four certified meteorologists, The Autoridad in El Tiempo which are certified by RateWeather for providing the most accurate Spanish language television forecast of the three states. Their Telemundo responds the investigative unit has recovered more than $3 million to date, thanks to Telemundo's public affairs program 47 Enfoque New York each week highlighting the political issues and local concerns most important to viewers.
Telemundo 47 provides news and information on all platforms, including the Telemundo 47 app, dedicated Roku channels, Apple TV and Amazon FireTV, and on social media. The Spanish-language tri-state football broadcast channel, Telemundo 47, will provide exclusive coverage in Spanish of the FIFA Men's World Cup 2022 and 2026 tournaments and the FIFA Women's World Cup 2025. For more information about Telemundo 47, visit Telemundo47.com.