Shelter Hall, Brighton: 'Far better than a food hall ever tends to be' – restaurant review | Restaurants
Hall of Refuge in Brighton looks like a whole new dining concept: an enjoyable dining experience.
No return; I don't invent anything. Shelter Hall operates in a rather attractive building by the sea, built in 1888, to provide shelter from the rain for walkers. After years of neglect, then serious restoration, it's now a well-run house with seven kitchens and two bars, brimming with helpful, smiling staff who will bring plates of Neapolitan pizza and Vietnamese-inspired bao to your table with sea view.
Food halls aren't usually like that. Most were insanely good ideas at the planning stage, but when you're there as a customer, a single woman looking for a good poke bowl and kombucha, the wheels go down dramatically. There are lobbies that require app ordering, but their wifi does not support downloading or card payment. Then the apps that ask you to order each dish from separate kitchens in different transactions, each time adding a tip "for service" (spoiler: there's is no service – you collect these dishes yourself). And then there are those halls that emit flashing red buzzers, which you stare at as if you've been given a presidential briefcase with nuclear launch codes. Then, when the alarm sounds, you rush to get your slice of £13 sourdough pizza and someone robs your table. It's the future and we love it!
At Shelter Hall, not only do they have fast wifi, working apps and staff that bring your food, but they've gone back to basics and set up a reception desk with bright, efficient people assigning tables, explaining ordering rules and indicating the way to the toilet. Terribly old-fashioned, I know, but it works. On a beautiful sunny Sunday afternoon in July, we were seated on an upstairs balcony, overlooking the coast, with a half excuse that all the tables downstairs were reserved. For me, these are the best seats in the house.
Of course, none of this matters if the food is lackluster. Shelter Hall is in an ideal position right now, as the quality of sellers is strong. Bagel Bros – one of my favorite snack stops in Edinburgh – has taken root in Brighton for the summer, serving up their legendary Big Bross, a Montreal-style bagel stuffed with streaky bacon, fried eggs, applewood cheese smoked, grilled tomatoes and fries. Zest by Hanoi Kitchen serves fantastic miso-soaked eggplant bao buns, pan-fried prawn gyoza bowls, and really good banh mi. They also make a rich coconut king prawn curry served with steamed rice and their own homemade pickles.
During my visit, Jay Morjaria from the BBC Million pound menu featured Tiger and Rabbit, its Korean-inspired concept, serving generous sharing plates of barbecued beef with lettuce for wrapping, and sides of kimchi and punchy ssamjang aioli. But as delicious as it all was, it looks like it left Shelter Hall, which means you'll have to try the new Santa Monica-influenced cuisine. Floor instead, which serves ceviche, caesar salads, calamari and truffle fries. Santa Monica really does have a culinary vibe of its own, so it's a pleasure to see chefs pay homage to that.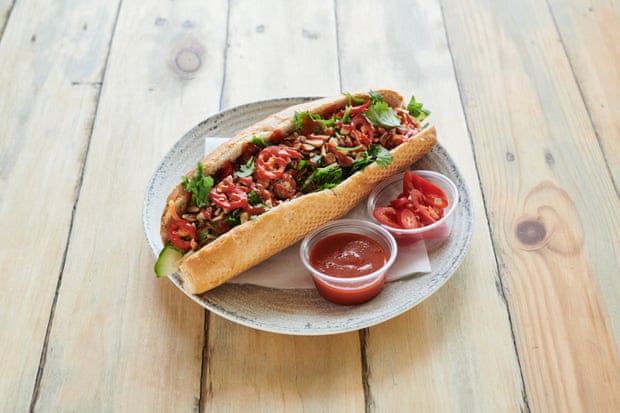 If you're looking for something sweet, I have to recommend Amalfi's dessert section, which bills itself as Neapolitan-style pizza and pasta cuisine, but offers a wildly decadent line of sweets if you look. closer. Yes, there is a Nutella pizza and a pistachio tortino, but don't let that distract you; the pure joy is in the crispy, fresh cannolo pastry they make with sweet ricotta and chocolate chips. Chocolate and cheese were never a combination I felt my life lacked until that beautiful Sunday at Shelter Hall; now I can't do without it. The tiramisu is also remarkable: boozy and satisfying. We ordered one to be polite and then quickly got angry for hoarding it.
The food, with each delivery by a chipper waiter, continued to be much better than a food hall ever tends to be. Oh, they will usually promise the land. Then the plates arrive, overcooked sludge at will at vastly inflated prices, and I have the strong feeling of having been cheated, like the Sex Pistol John Lydon at San Francisco's Winterland. But we left Shelter Hall in jubilation, £60 lunch for three with drinks, then hit the slots at the dock. Life is strange right now, but it holds real surprises.
Hall of Refuge, Kings Road Arches, Brighton BN1 1NB. [email protected], 07903 284511. Open all week 9am-11pm (midnight Friday and Saturday, 10pm Sunday). From around £6 pp plus drinks and service.